It has been an incredible event, well organised with extremely helpful volunteers who were ready to assist us where ever we needed.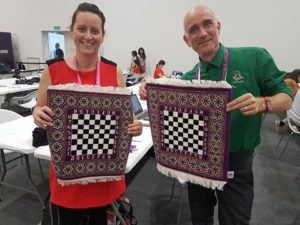 And the level of chess played was amazing! Not only by the Superstars like Magnus Carlsen, Wesley So and many many others, but also by the juniors.
Over the last 14 days we have been giving you an insight into the young minds of players from around the world. Some with very high goals for the futures and others that were enjoying the opportunity to represent their country.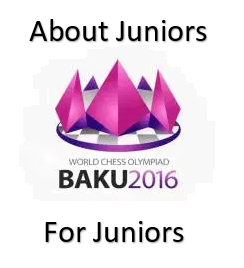 At a tournament there are always opportunities to win, to score high and to go home with a trophy or title. And the juniors that we featured have certainly exceeded expectations!
So for our final wrap up – How did they go? If you want to read their interview, just click on their image!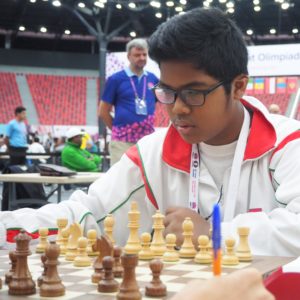 CM Haridify Ralison from Madagascar hoped to get his FM title this tournament and it came to the very last round! But he succeeded; with 6.5/10 he obtained his FIDE Master title!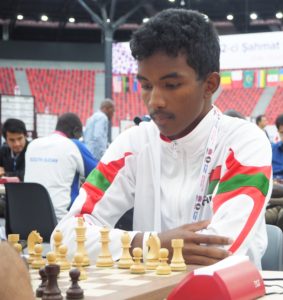 Unfortunately 5/9 was not enough for FM Fy Rakotomaharo to get his IM norm this tournament. But playing on board 1 for your country certainly adds the extra pressure! He is off to the World Youth in Khanty-Mansiysk next week and we hope to see him there achieve his goals!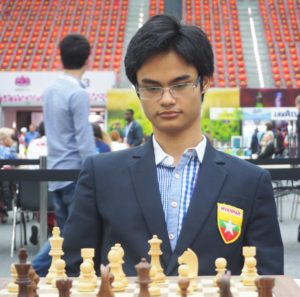 With two rounds to spare Maung Maung from Myanmar obtained his FIDE Master title with a score of 6/9! Congratulations Maung Maung, we look forward to follow your journey in chess!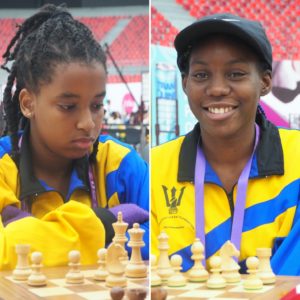 Competition was strong for Gabriela and Segan from Barbados, but these cheerful girls enjoyed their first Olympiad and we are sure we will see them again on the world stage!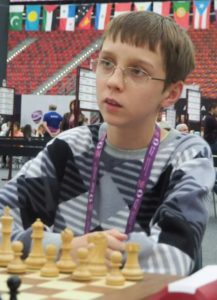 Our very own Australian Superstar obtained his double GM norm with a round to spare! With a total score of 8.5/10 he remains undefeated at the two Olympiad's he has played. Anton also came fifth in the list of top board 4 players. Anton is without doubt going to be featured in the Australian Open team for many more years to come!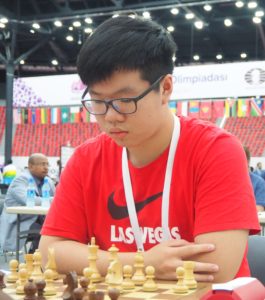 Ieong Seak Hin from Macau played like a legend and with a final score of 4.5/9 he can be extremely proud of his efforts!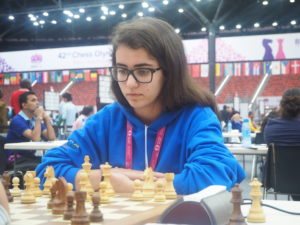 18 year old Kathie from Brazil got her Candidate Master title with a final score of 4.5/8! Great effort as she has faced some very strong opponents!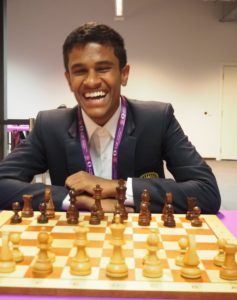 17 year old Grandmaster Murali from India scored 2/2 at this Olympiad, contributing wonderfully to his team, allowing them top win Gold in Category A! [Teams are divided into 5 categories based on their combined rating, India was in the top category]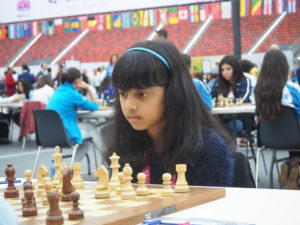 10 year old Nadia Braganza from New Zealand ended her Olympiad journey with 4/9, which for such a young player is an incredible feat! Certainly something she can be extremely proud of! We hope to see Nadia play in Australia soon and give our aussies a run for their money!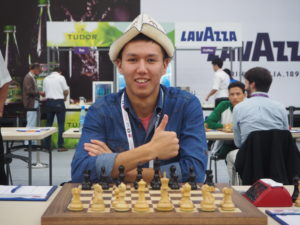 It was a delight to catch up regularly during the Olympiad with Tagir from Kyrgyzstan. Having played a GM, two IM's and a CM he had some strong competition this Olympiad and a final score of 3/7 is nothing to be ashamed of! Well done Tagir!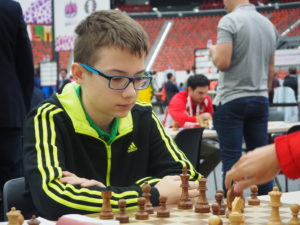 Michaelides from Cyprus, may not have had the tournament he had hoped for, but playing against two GM's, and IM and three FM's is always a great opportunity for learning! We are certain Michaelides will have a very bright future in chess and will most certainly feature on the world stage more often!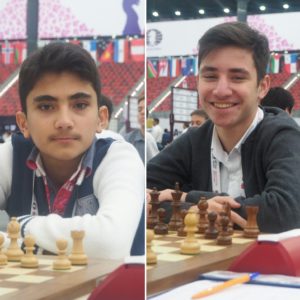 And finally we finish with the boys from Azerbaijan. Nail finished with 5.5/9 and Abdulla 6/10. Abdulla also now has a running rating of 2317, which is enough to grant him his IM title! But most incredibly, the entire Azerbaijan team finished first in their rating category, securing Gold and an incredible opportunity to stand on the podium at the Closing ceremony!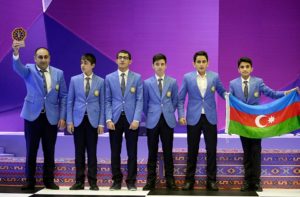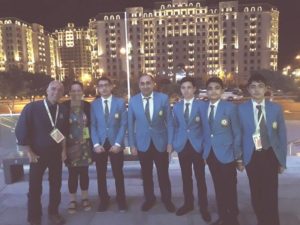 We hope you have enjoyed our blogs and we are looking forward to continuing our stories as we travel to tournaments, both within South Australia, Nationally and Internationally!
Keep up the good work everyone! We love seeing you all play chess!
David and Sabrina Koetsier