Every Tuesday during school term at the Campbelltown  library, Newton.
4-5 pm for Beginners and Primary Students.
5-6 pm for Advanced and Secondary Students.
 Only $5 per person or attend both sessions for only $7.
We have started the Campbelltown Junior Open! Once a week on a Monday from 4pm, players battle it out. Have you missed the first round? Not a problem! We can still organise some catch up rounds if you wish to play along!
Pairings and standings below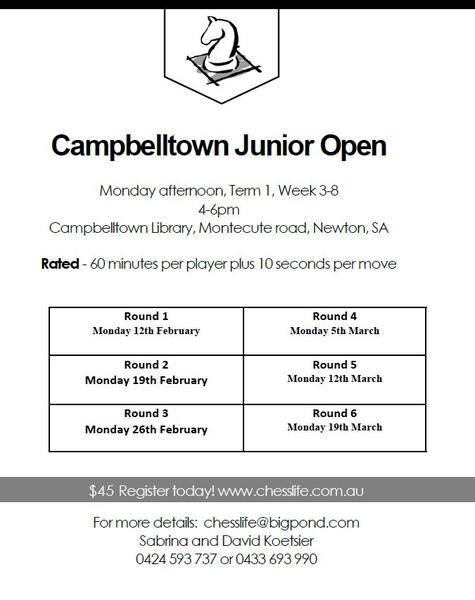 Campbelltown Library Community Chess Teams
Do you attend the Campbelltown Library Chess Club and would like to represent the community team in the Interschool Chess League? Download the form for more information HERE: Interschool registration 2016
Dates for the City Interschool Championship will be announced a later date.
The Campbelltown Library is a validated Learning Destination for the Children's University so come and get your passports stamped!