The Olympiad is the largest chess tournament you can attend and host country Azerbaijan has set the standard even higher! With a spectacular opening ceremony on Thursday 1st September at the National Gymnasium Arena, the 42nd Olympiad has officially started.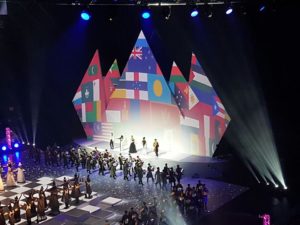 So what is the Chess Olympiad?
The Chess Olympiad is a chess tournament that runs every 2 years and is the biggest chess event on the calendar. FIDE (The World Chess Federation) organised the first Official Olympiad in 1927 in London. There is an Open Division and a Women's division. Teams of 5 play 11 rounds where the defending champions China will need to work hard against the highest rated team Russia and second seed USA.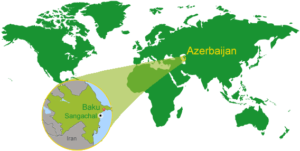 Players and Countries
For this event there are a record breaking amount of players; the total number of participants is 1,607 with 899 in the open and 708 in the women's event.The number of participating teams is 181 from 176 countries in the open section and 142 from 137 countries in the women's section. Seven countries, Burkina Faso, Cambodia, Central African Republic, Eritrea, Kosovo, Liberia and South Sudan, all participate for the first time. (numbers from Wikipedia)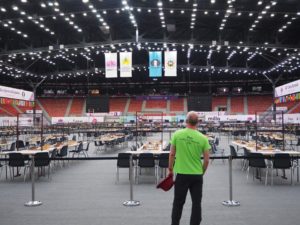 Australia is currently ranked 46th in the Open division and 54th in the Women's division. We will keep you posted on their progress!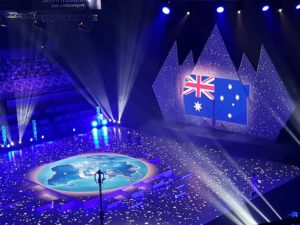 Juniors and the Olympiad
And it is incredible to see so many juniors play this year: in the Open division there are over 50  players who are 18 years or younger, that makes a staggering 6%!
The players are from far and wide, from countries we can only dream of visiting one day. For example 18 year old IM David Silva from Angola, 16 year old Hin Leong Seak from Macau and 17 year old FM Joshua Johnson from Trinidad and Tobago. Australia is also showing its strength around junior chess with the participation of 15 year old IM Anton Smirnoff. (Photo courtesy of Cathy Rogers)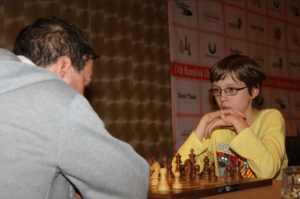 The youngest participants in the Open section are 13 years old; CM Dante Beukes from Namibia, Alireza Firouszja from Iran and FM Mahammad Muradli from Azerbaijan.
For the next 14 days we will bring you daily reviews and study material from the junior chess players at the Olympiad from those places far and wide. It only seems fitting that we start with a player from the host country of Azerbaijan.
13 year old FM Mahammad Muradli obtained his FIDE Master title in 2015 while competing in the World Youth Cadets U12 Open, taking out the gold trophy. He is playing on board 2 in the third Olympiad Azerbaijani team. (The host country is elligble to have multiple teams participate). Currently ranked number 24th in the world for the U14 players, he is certainly one to watch!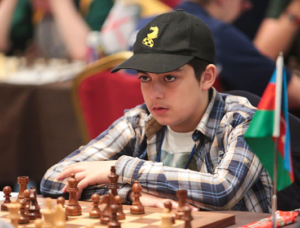 Click on the chess board below for an interactive analysis of the game: