Chess Coach Wanted! Do you enjoy a game of chess? Would you like to teach others? Chesslife is looking for an enthusiastic coach to join the team. Never taught before? No problem – full training provided. Send your resume and cover letter stating your experience and availability to chesslife@bigpond.com For more information check www.chesslife.com.au
Chess Pyramid
Always wanted to know what the structure of Australian chess is like? Can you work out where in the pyramid you are and where you want to go?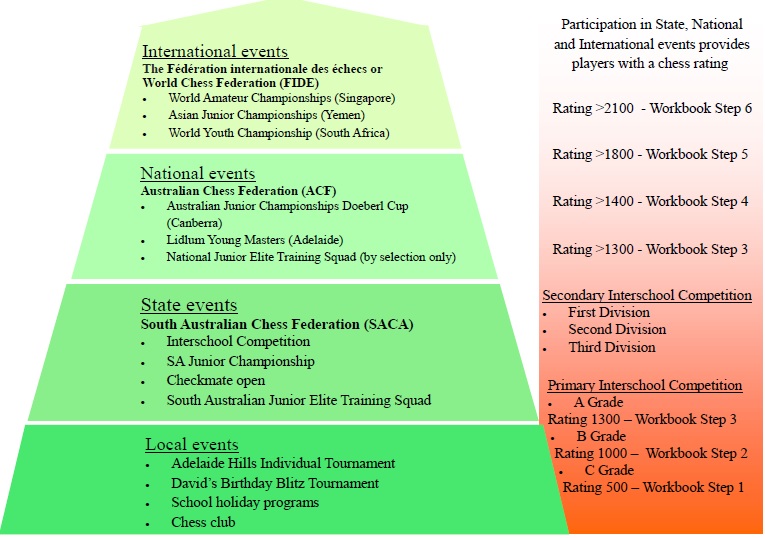 Becoming a Grandmaster in chess
We all know that the best of the best in the world of chess battle it out around the world. But how do you become part of the best and how do you become a Master and Grandmaster?
In South Australia students can compete in a variety of tournaments, like the school competition. These tournaments are all linked to the South Australian Chess Association (SACA) and mainly the junior part of this organisation (SAJCL)
When students play regularly in South Australia, they can attempt competing in the State or National Championships. These are organised by the Australian Chess Federation (ACF) and of course the junior part (AUSJCL)
At this level there is the opportunity to train with some of the best of Australia and the hard work can be rewarded with a place in the Junior Elite Training Squat, also known as the JETS. 30 students get coached in this Elite training to play in International Tournaments organised by the World Chess Organisation (FIDE). If you play for Australia in International competitions – you will play as part of the Chessaroos!
Rating
Along this track students will acquire a rating. Each country has their own rating database and once you have played internationally you will also obtain a FIDE rating.
Australian ratings are registered and monitored by the Australian Chess Federation and will start from 500. Your rating will move up or down depending on your wins and losses and of course whether you have been playing a higher or lower rated player. To compare ratings with the Step-by-Step method; if a students has completed Step one, they would have a comparab le FIDE rating of 500. Step two will be a rating of 1000, Step 3 – 1300, Step 4 – 1500, Step 5 – 1800 and Step 6 – 2000+
If  a student wanted to develop using the Step-by-Step method, the workbooks relate as follows; C Grade – Step 1, B Grade – Step 2, A Grade – Step 3, Secondary Division – Step 4 and National and International – Step 5 and 6.
Taking the final leap
To become a Master you will need to earn three master titles in a period of five years. Playing in different international tournaments will lead to different qualifications for the master titles. You can become a FIDE master (FM) and then an International Master (IM). Australia has 6 Grand Masters; Max Illingworth obtained his title in 2016.
Once you are a master you can become a Grandmaster by qualifying in a similar way, winning three Grandmaster titles in five years and having a minimum rating of 2500. Once you have this title it is for life and is often abbreviated as GM.
Currently there are only six Australian Grand Masters; Ian Rogers, who won his title in 1985. He was Australia's highest rated player for over twenty years. He is the vice-president of the AusJCL. David Smerdon, Darryl Johansen and Zhao Zong-Yuan are other Australian Grand Masters.
The Youngest ever Grand Master is Sergey Karjakin from Ukraine. He received this title in 2002 when he was 12 years old. The youngest Dutch Grand Master is Anish Giri, who got his title when he was 14 years old. The current female world champion Hou Yifan from China also became Grand Master at the age of 14.