Please find below a more detailed list of the content of the Step method system. We have also highlighted here the basic lessons featured in the manuals for teachers and coaches.
If you would like to purchase the Step Method, please visit our STORE
The books from Thinkers Publishing are a great complement to the Step Method.
If you have a question about the Step Method, drop us an EMAIL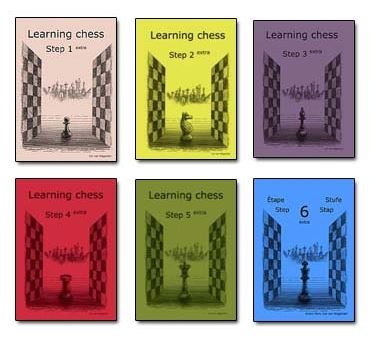 Step 1 
In Step 1 all the rules of chess are explained, from how the pieces move to what is Mate, Checkmate and Stalemate. Attention is given to the development of basic skills necessary for playing chess, like defending, attacking safely and board vision. The manual offers great support for trainers, experienced or inexperienced, especially the first 30 pages discuss about the chess development of a child, motivation within a class room and how to teach. Recommended age: 8+, for younger children we recommend to start with Stepping stones.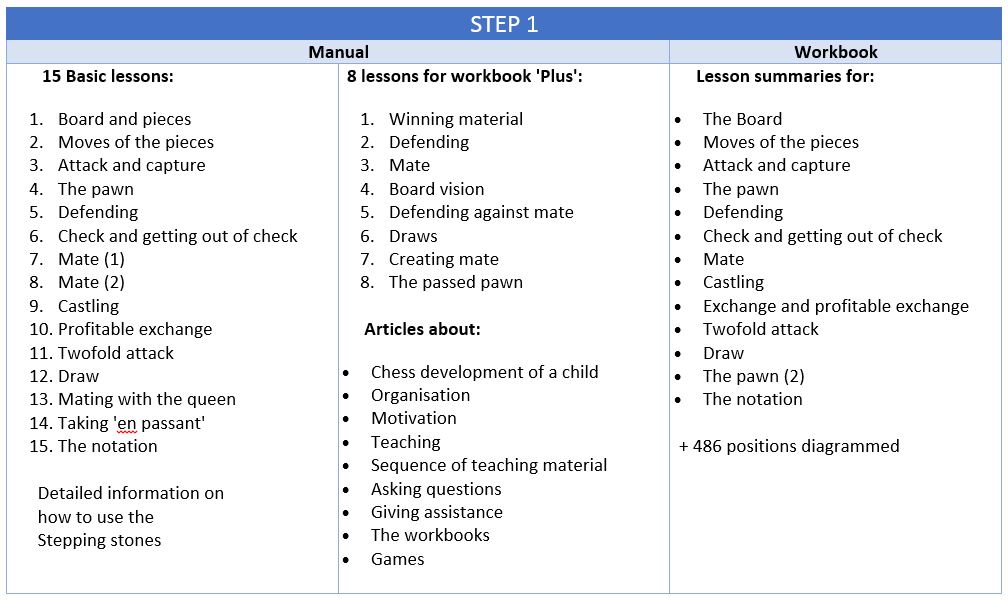 Answers to the diagrams in the workbooks:
Step 2 
The first principles of tactics and positional play are introduced in the Step 2. There is more emphasis on tactics; double attack, discovered attack and defending against mate.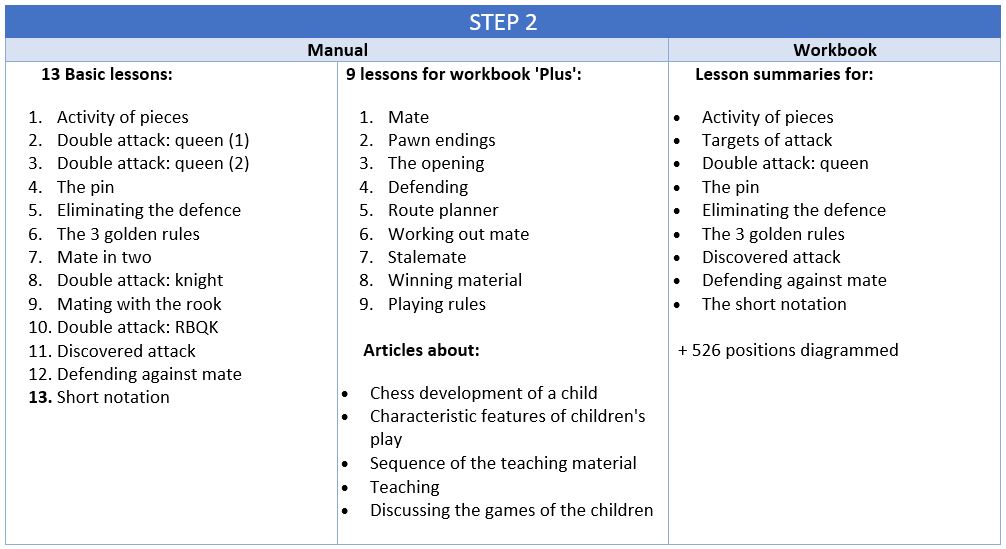 Answers to the diagrams in the workbooks:
Step 3 
It is necessary to be proficient in Step 2 before proceeding with Step 3. It continues on the tactical subjects, with a slight increase in difficulty.  Topics discussed are Elimination of Defence and Defending against a double attack. Thinking ahead becomes more important and a first start with pawn endgames is made.
Answers to the diagrams in the workbooks:
Step 4 
The tactics are dominated by the preparatory move. The positional aspects of chess slowly become a part of the games of fourth step students. A basic feeling is created in the lessons "weak pawn" and "endgame strategy". It remains best to deal with positional factors while addressing the games of the students.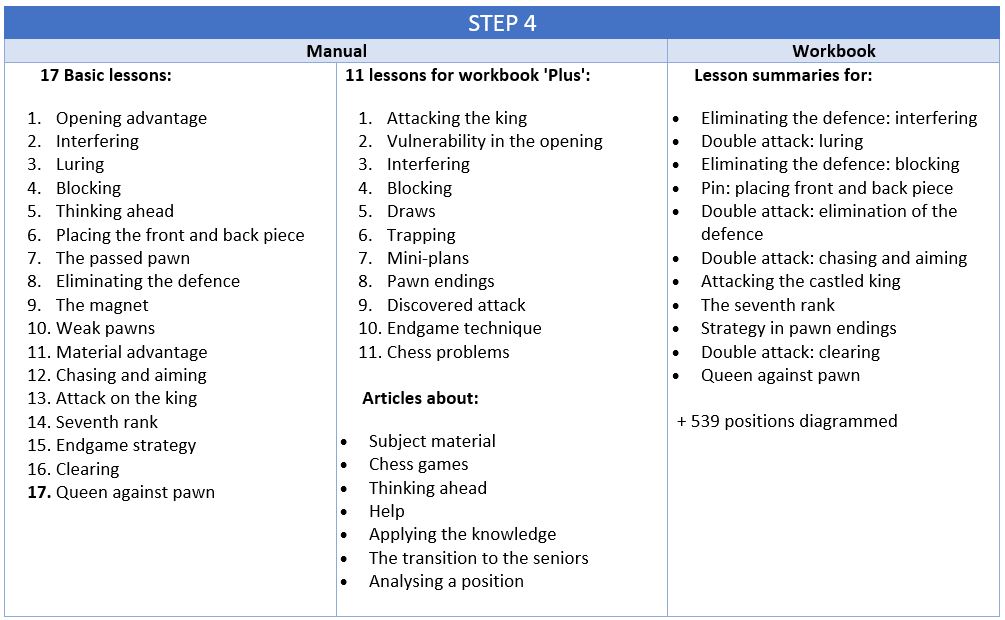 Answers to the diagrams in the workbooks:
Step 5 
Step 5 is the last step for group teaching. In this step the attention on tactics is less than in the previous steps, nevertheless, tactics remain the main part of the games of Step 5 students. The lessons about the pawn structure, the seventh rank, strong square and open file contain various strategic aspects.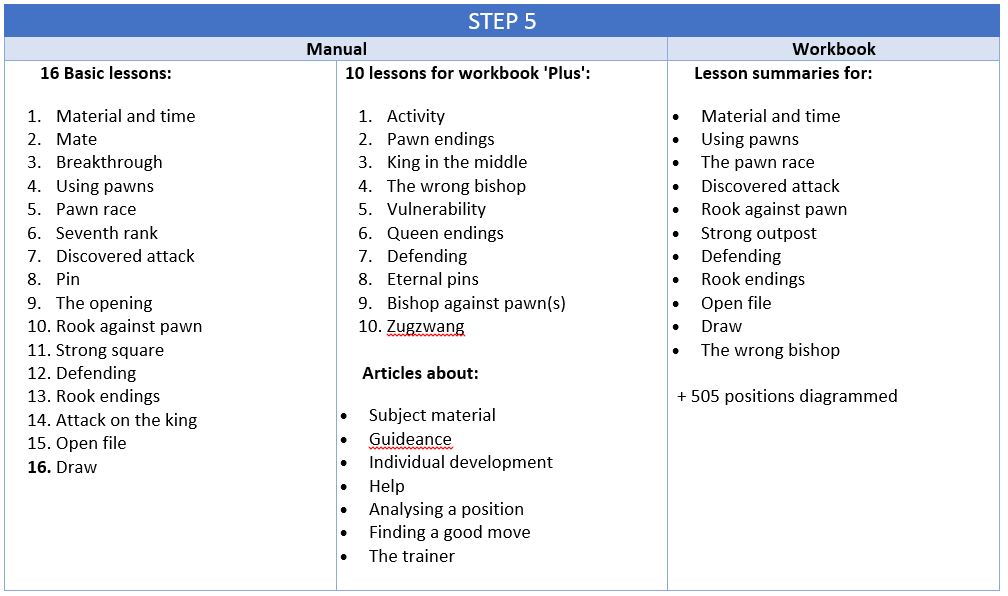 Answers to the diagrams in the workbooks:
Step 6 
There aren't many chess trainers able to teach step 6. That is the main reason that the target group of this book has been altered. It is not a manual for chess trainers any more but a self-study book for the independent learner. The difficulty level of the material goes up again. The solutions to the exercises are consequently one move deeper.